About New York
Loud, glitzy, sprawling and relentlessly busy, New York is the ultimate megalopolis…the city of cities that never sleeps! Made up of five boroughs, of these Manhattan conjures up the primary iconic images most people think of.
Situated where the Hudson River meets the Atlantic, with so much to see and do you'd be hard-pushed not to be wowed. But a word of warning… you may feel like you need a relaxing holiday when you get back!
People love New York for countless different reasons, with spring, early autumn and Christmas the busiest tourist periods. Weather-wise, best times to visit are April to June or August to October when the weather is generally milder and you're less likely to need to carry a coat. Peak daytime temperatures in September are about 25°C, decreasing month by month to February. Summers are warm and humid and winters can be extreme, often with snow and biting winds. On the plus side, the bitter chills of NYC winters do feel dryer and somehow less harsh than the British cold.
Early September is fab for Fashion Week, with New York hosting the opening week before it all moves on to London. Keep your eyes peeled for A-listers and their entourages visiting town, along with the great and the good from the world of fashion - and learn what's hot for next season!
Hallowe'en (October 31st) is a sight to behold in NYC with a night parade attracting more than two million people, many in costumes. Some of the parade puppets are so enormous that they tower alongside the buildings on Sixth Avenue.
Christmas in New York is nothing short of spectacular. With the endless twinkling lights, shopping opportunities and festive attractions, in combination with that distinct wintry chill in the air, it really does feel like the ultimate winter wonderland, recalling countless feel-good festive movies.
Air travellers to New York City may arrive at John F. Kennedy International Airport (JFK) or LaGuardia Airport (LGA), both in Queens, or Newark Liberty International Airport (EWR) in neighbouring New Jersey. LaGuardia is the closest to midtown Manhattan but not served by trains so a car or taxi ride will get you to Manhattan in about 35 minutes depending on traffic. JFK and Newark are both served by the AirTrain which can take up to an hour but are relatively simple to navigate.
With so much to do and see in New York, there's simply no excuse not to get your trip booked up now.
New York
Blog posts
From the top US travel bloggers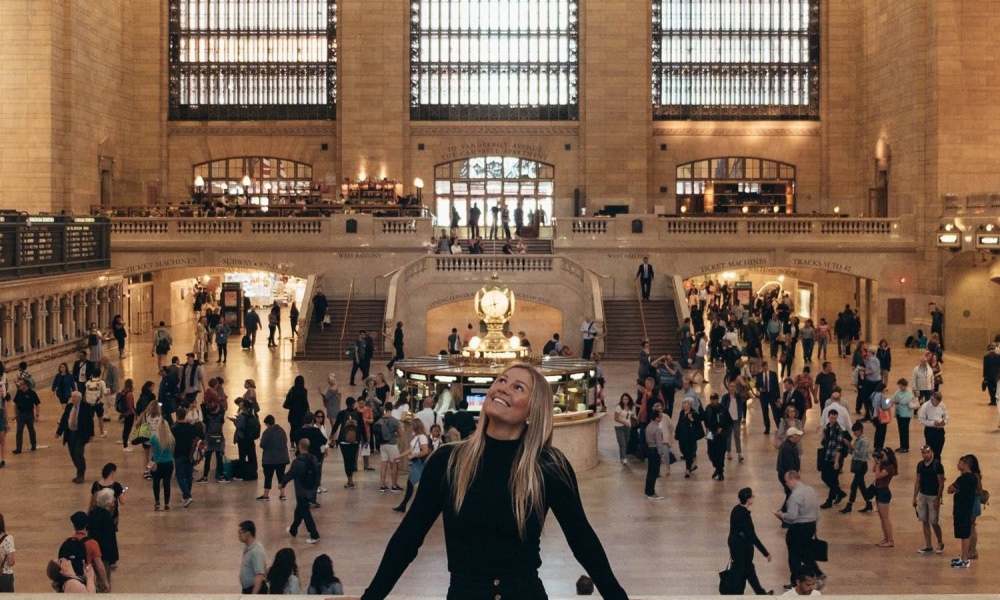 10 places to visit in NYC (that aren't Times Square)Â 
9th March 2022 by The Blonde Abroad
Somewhere between living and dreaming, there's New York City. The City That Never Sleeps is electric with energy 24 hours a day. There are a dizzying array of things to do in NYC, and it's a place everyone must see at least once. And, sure, Times Square is a tourist trap worth getting sucked into at least once…just for the experience, but it's truly just the beginning. While we've all seen NYC on countless movies, TV shows, and travel guides, the best things to do in NYC and cool...
Weather in New York
Our month-by-month guide to the weather and climate in New York